ECIC and Michigan's Children Discussion
On March 10, the Early Childhood Investment Corporation and Michigan's Children, with funding from the Alliance for Early Success, hosted an in-depth discussion of Early On Michigan to learn about how other states have structured the implementation and funding of Part C of IDEA early intervention programs and policies.
The day featured presentations from Maureen Greer, Executive Director of the IDEA Infant and Toddler Coordinators Association, Vanessa Winborne, State Part C Coordinator, as well as Cheryl Granzo and Rich Van Tol with perspectives from Ionia and Genesee counties. Consultants from Zero to Three and the Ounce of Prevention Fund facilitated the discussion.
Lt. Governor Calley Meets Early On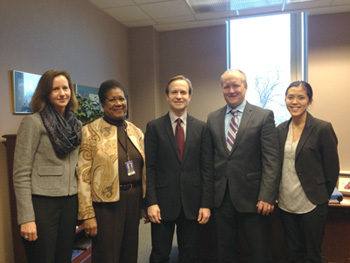 On January 14, the Early On Michigan Foundation met with Lt. Governor Brian Calley, along with Vanessa Winborne of the Michigan Department of Education and Matt Gillard and Mina Hong of Michigan's Children, to discuss the needs of the Early On system.
Funding Request to Governor
The Early On Michigan Foundation was a part of an effort to ask Governor Snyder to support Early On through new funding in the Department of Education 2016 budget. Mina Hong, a Foundation Board member who works for Michigan's Children, coordinated a "sign-on letter" requesting the funding.

Signatories of this letter include:
The ARC Michigan
Early On Michigan Foundation
Epilepsy Foundation of Michigan
Michigan Association for Infant Mental Health
Michigan Association of Intermediate School Administrators
Michigan Association of United Ways
Michigan Chapter of the American Academy of Pediatrics
Michigan Council for Maternal and Child Health
Michigan Disability Rights Coalition
Michigan Head Start Association
Michigan League for Public Policy
Michigan Protection and Advocacy Services, Inc.
Michigan's Children/Michigan Chapter of Prevent Child Abuse America
Please reach out to your legislators and request state funding for Early On!
License Plate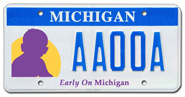 Unfortunately, the deadline for House Bill 4004 to create the Early On Michigan License Plate expired without action.
However, there is still hope! On September 17, 2014 Senator Hopgood introduced Senate Bill 1079 to create the Early On Michigan License Plate. The bill has been referred to the Senate Committee on Transportation. And so we begin this process with a fresh start on the Senate side of the legislature.
In order to provide another stream of revenue for Early On Michigan, Senate Bill (SB) 1079 would create the Early On Michigan license plate.
Thank you for supporting this important opportunity!
Support for families
The Early On Michigan Foundation strengthens programs that support families of infants and toddlers who have delays in development or disabilities. The Foundation raises funds to enhance early intervention services through Early On Michigan for families of eligible infants and toddlers so that their optimal development is supported.
Why do families need Early On Michigan?
New parents who find themselves caring for children with special needs, from minor delays to significant disabilities, often need services for their children (such as speech therapy or physical therapy) and support (such as strategies for feeding and bathing) in order to help their children develop to their fullest potential.
Children and their families need support so that they can grow, develop, and be as ready as possible for success with friends, in school, and in life.
Upcoming Events
There are no Early On Michigan Foundation events scheduled at this time.