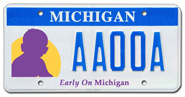 In order to provide another stream of revenue for Early On Michigan, House Bill (HB) 4004 would create the Early On Michigan license plate.
Passionate parents and educators throughout Michigan are invited to provide testimony about the importance of Early On and how it has made a difference for them.
Come and testify in person:
Tuesday, May 14, at 10:30 am.
House Office Building, Room 521
124 N. Capitol
Lansing, MI 48909
Or written testimony may be provided to:
Representative Dian Slavens
Michigan Legislature
P.O. Box 30014
Lansing, MI 48909
kwhitman@house.mi.gov
Thank you for supporting this important opportunity!
The Early On Michigan Foundation strengthens programs that support families of infants and toddlers who have delays in development or disabilities. The Foundation raises funds to enhance early intervention services through Early On Michigan for families of eligible infants and toddlers so that their optimal development is supported.
New parents who find themselves caring for children with special needs, from minor delays to significant disabilities, often need services for their children (such as speech therapy or physical therapy) and support (such as strategies for feeding and bathing) in order to help their children develop to their fullest potential.
Children and their families need support so that they can grow, develop, and be as ready as possible for success with friends, in school, and in life.